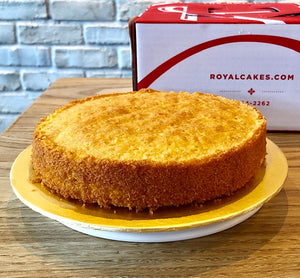 A traditional sugee cake made with semolina flour, ground almond and butter.
Light and tasty. Simply delicious! Perfect with a cup of tea.... 

Comes in transparent plastic box or plain white box. 
-

Our cakes are lovingly handmade by our in-house chefs, with reduced sugar levels to suit our customers' taste buds.
Do note that each cake is unique & may not look exactly like the photographs. Images for reference only.

For customised cake designs, bigger sizes, delivery orders or last minute orders (less than 3 days notice), please call us at 6444-2262 to place your order.