FESTIVE TREATS FOR THE FAM
Handmade Birthday Cakes
Choose from our selection of delightful cakes to complete your celebration!
ORDER HERE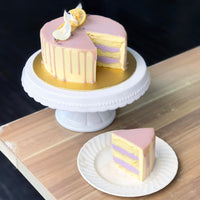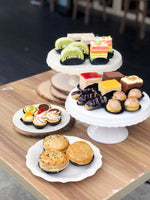 Finger Food for all Occasions
Choose from our selection of Savoury & Sweet Treats to Main Meals, perfect for any event.
ORDER HERE
Introducing 'Bad Boy Burgers' by The Royals
Say hello to our new Halal burger & milkshake concept, available for delivery straight to your doorstep!
Enjoy 20% off your first order ;)
ORDER ONLINE NOW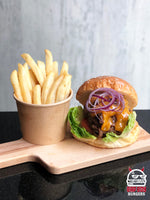 Same-Day Food Delivery; Click below to order!
Enjoy your favourite meals delivered right to your doorstep. Click the respective links below to place your order today! Self-pickup option available as well.
Voted Best Mee siam in singapore
Signature Nyonya Mee Siam
Savoury, tangy, rich & flavourful, our Nyonya Mee Siam is a must-try for all.
Springy bee hoon, bean sprouts, tau pok, egg, crunchy prawns, homemade sambal, & more than 12 different ingredients to make the gravy for a richer & tastier flavour.

Savour a comforting bowl of Mee Siam at our cafes or order our buffet-style party pack for your next gathering!
(PP10) Nyonya Mee Siam Party Pack - vegetarian version is available now.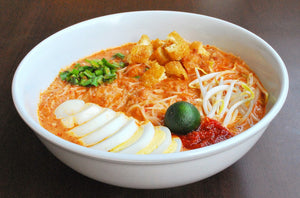 Testimonials
Ordered delivery of their Finger food & snacks for a tea party. We had their chicken mushroom pies, samosas, spring rolls, mini profiteroles & eclairs. It all tasted great.

I'm so pleased, as all my guests loved the food. Thank you. Will definitely order again & try the other varieties.

Not to mention I have always been a fan of their chocolate truffle cake for many many years.

AJ M
Amazing food. The mee siam is truly the best! Flavorful and rich. The nasi lemak's sambal is fire! Special thanks to K, Alan, Farid and Amir for making our experience here worthwhile. Highly recommend this restaurant. Great food, great people!

Sky Iskandar
I was intrigued by their poster claiming to have the best mee siam. Overconfidence? I shall be the judge of that….. I was actually impressed by the mee siam. I've been looking for a similar one ever since this Makcik in Yishun stopped selling because it's too much work. The gravy had peanuts which helped to thicken it. None of that watered down rubbish you get in some places. Prawns were a nice touch. Tau pok was also well done. I preferred it a bit sweeter but it's ok. I think it deserves the title of best mee siam. The gravy itself is a piece of work.

Foodie Directory
Always liked coming to Royals Cafe cos of how homely & warm the service & atmosphere is. Not a great place if you want a romantic meal with your date 😂 but definitely a great place to take a boisterous crowd to.

Food is always homey and warms not just my stomach but my soul ❤️
If you come here, the mee siam is a must try and don't forget to pack away some home made cakes and cookies!

The portions are pretty hearty so come with a hungry stomach to enjoy the meal. Kid-friendliness: Family type restaurant. Very kid friendly.

Michelle Cheow
Ordered delivery for our event of 35 pax. Got their assorted chicken pies, samosa and spring rolls, club sandwiches and assorted desserts. Nicely packed in boxes with dividers. Everything tastes great and it was wiped out at the end of the day.

Appreciate the prompt service and delicious food. Will definitely come back for more.. keep going with your awesome food and exemplary service!

Jessintha Tan
Had their nonya mee siam. Excellent...just the right amount of sweetness balanced with the lemak curry. The salted caramel cake is fabulous as well. Salty and sweet in great equilibrium. Will come again...

Parking: Free parkjng if you can get a lot. Limited...

Dorothy Lee
One of the best mini chicken pies I've ever had! Bought 3 to share among two of us, but ended up having 6! Gotta try em

Zack Low