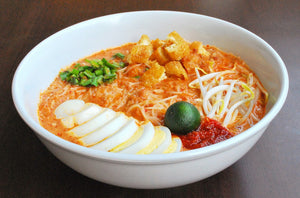 If you require more Mee-Siam gravy, you can order for one tub of extra gravy only. 
Using more than 12 different ingredients to make the mee-siam paste, our Nyonya Mee Siam gravy has a richer and tastier flavour.
Contains dried shrimps, coconut milk and peanuts. GRAVY only; condiments not provided.
Serves 6-8 pax.
- 
Images for reference only. For delivery or last minute orders (less than 3 days notice), please call our hotline at 6444-2262 to place your order.