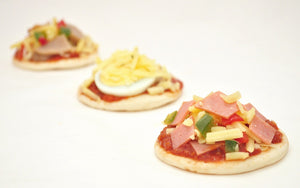 20pc mini pizzas perfect for a party.

Assorted toppings included:
- Chicken-Ham
- Egg
- Capsicum
- Chicken-Sausage
Can have meatless and eggless option, but contains cheese.
- 
Images for reference only. For delivery or last minute orders (less than 3 days notice), please call our hotline at 6444-2262 to place your order.